Freemindtronic Wins Globee® Awards in the 2022 Cyber Security Global Excellence Awards®
Freemindtronic named Winner in the Globee Awards 18th Annual Cyber Security Global Excellence Awards®
Escaldes-Engordany, Andorra, – February 24th, 2022 – Freemindtronic announced today that The Globee® Awards, organizers of world's premier business awards programs and business ranking lists, has named the Cyber computer of Freemindtronic a winner in the 18th Annual 2022 Cyber Security Global Excellence Awards®. These prestigious global awards recognize cyber security and information technology vendors with advanced, ground-breaking products, solutions, and services that are helping set the bar higher for others in all areas of security and technologies.
The NFC Cyber ​​Computer with EviCypher technology of Freemindtronic offers a new innovative solution to fight against ransomware, espionage and at the same time secure access to sensitive data and protect secrets physically, offline. The NFC reader integrated into the Cyber ​​computer allows interaction with a secure NFC card, manager of encryption tokens and secrets. Simply insert the NFC card into the reserved slot of the Cyber ​​Computer to perform all the operations. Thus, the secrets are physically isolated from the computer system. This allows contactless encryption and auto-locking of access to internal and external data storage media such as USB, SD, SSD or HD keys. The Cyber ​​Computer is also equipped with an encrypted differential backup system with self-locking and/or self-disconnection for storage via a local or remote network. The Cyber ​​Computer offers an effective solution for contactless encryption of webmail and instant messaging. This device is equipped with a multi-factor authentication (MFA) system. The NFC card is also compatible with an NFC phone via the Freemindtronic EviCypher Application. Thus the user of a Cyber ​​Computer has an eco-system which also secures all his messaging services including SMS and files on his phone.
"We are proud to be recognized as an industry player whose Cyber computer with Freemindtronic EviCypher technology has been named winner by the Globee Awards, in hardware safety and cybersecurity" says said Jacques Gascuel CEO of Freemindtronic Andorra.   "Behind this distinguished success, it is above all the work of a team of enthusiasts in perpetual research and development of new solutions to fight against cybercrime and espionage while defending the individual sovereignty of its data. We believe that this recognition from the Globee Awards further validates our perseverance in always pushing the limits of the impossible to meet the increasingly complex needs of our customers in terms of protecting their computer systems, their information and communications but not only. Human error is also taken into consideration thanks to protected and secure differential backup systems. Above all, the Cyber computer responds advantageously to the need to secure telework as well as work on the move. »  
More than 55 judges from around the world representing a wide range of industry experts participated in the judging process.
Judges | Cyber Security | Cyber Security Global Excellence Awards: https://globeeawards.com/cyber-security-global-excellence-awards/judges/
About the Globee Awards 
Globee Awards are conferred in ten programs and competition: the American Best in Business Awards, Business and Communications Excellence Awards, CEO World Awards®, Cyber Security Global Excellence Awards®, Disruptor Company Awards, Golden Bridge Awards®, Information Technology World Awards®, International Best in Business Awards, Sales, Marketing, & Service Excellence Awards, and Women World Awards®. Learn more about the Globee Awards at https://globeeawards.com
About Freemindtronic
The Andorran company Freemindtronic designs, develops and manufactures internationally patented white label products and services, particularly in the field of safety and cyber security. She is an expert in NFC technology. Jacques Gascuel's patented EviCypher invention was awarded the 2021 Geneva International Inventions Gold Medal. This Gold Globee® Winner 2022 is a new international recognition of the potential of implementation of this invention in many other domains of hardware security of secrets.
All trademarks are the property of their respective owners.
List winner of the Globee Awards 18th Annual Extract from Freemindtronic's Cyber Security Global Excellence Awards® 2022
We congratulate all the other winners.

We would like to thank the members of the jury in the Cyber Security Global Excellence Awards® for their interest in our latest Greentech innovation EviCypher.
Based on the invention of Jacques GASCUEL, the EviCypher card is a keeper of secrets. It is very easy to use and very efficient for contactless, end-to-end encryption from an NFC hardware security module, sensitive data and in particular emails in Webmail services.
Excerpt from Freemindtronic's Cyber Security Global Excellence Awards® 2022 virtual ceremony on 27 April 2022
Extract from the Cyber Security Global Excelence 2022 ceremony
Winners will be celebrated and presented their awards in a virtual ceremony attended by the finalists, winners, judges and industry peers from all over the world. Globee awards virtual ceremony more information clic here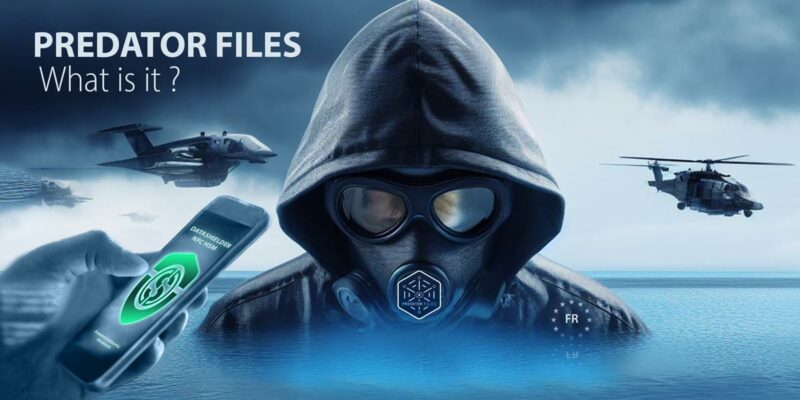 Predator Files: How a Spyware Consortium Targeted Civil Society, Politicians and [...]