Contactless Anti Mouse Jacking System by Freemindtronic Andorra
Lock Unlock Vehicle via NFC phone
Anti Mouse Jacking system in video demonstration on a "TROTEE.NET" project.
BEWARE ! The contactless mouse jacking system is a cyber safety and security solution by NFC that allows you to lock and unlock a vehicle without contact.
This video is presented a demonstration developed to measure by Freemindtronic SL. The electric scooters shown in this video are not manufactured or marketed. These are multi-trust contactless access control demonstrators that work via an NFC phone.
This technology is available under patent license.
It offers a quickly and easily adaptable solution for various wireless access controls, particularly in the automotive sector.
Finally, these contactless access control systems are compatible with the other technologies of Freemindtronic EviToken and EviCypher. In fact, this greatly extends the possible added values in many areas such as IT Security, Home Automation Security.
Functional 2016 prototypes
Anti Mouse Jacking

were presented to the public for the first time at the FIC in Lille in January 2016.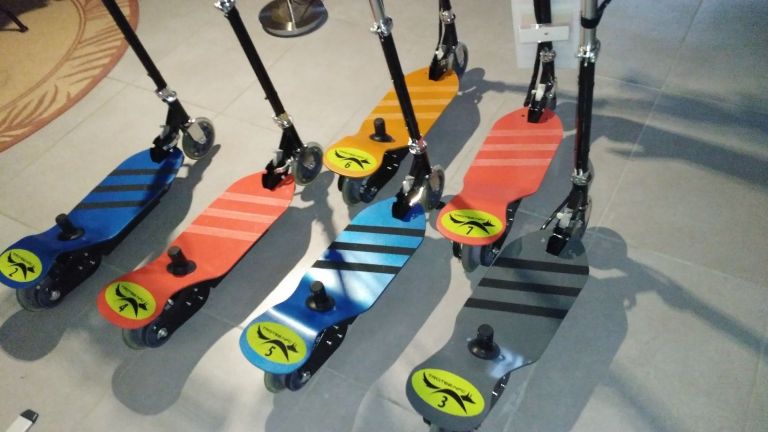 These scooters carry implementations of three patents granted.
These are demonstrators with integration of an NFC device with multi-criteria authentication system of trust. Lock or unlock a vehicle without contact. This action can be subservient to several criteria of trust such as geo location, facial recognition, digital borrowing, a password.
The contactless access control system is energy-independent to operate. It uses energy recovery to power the safety and cybersecurity system.
Similarly, you independently administer and manage user profiles. The tamper-proof black box offers many ideal services for the follow-up of vehicle maintenance.
These technologies are adaptable by Freemindtronic SL Andorra tailor-made on specifications for all types of mobility projects.
There are many use cases when it comes to mobility such as, renting, carpooling, user control and protection against vehicle theft.
It is also a wave jammer resistant technology used for "Mouse Jacking" vehicle theft.
Android NFC application
An application under Android has been developed to carry out demonstrations, such as the anti-mouse Jacking, sharing it, fleet management, but not only.
FULLTRACK NFC
FULLTRACK NFC : BETA
GUIDE D'UTILISATION : ND
Update: ND
Black Box version: ND
Free Download: ND cause application being updated
Works only with the TROTEE.NET® demonstrator.